Major Concerns to Build the Public Cloud

Cloud Computing is Changing The World
To secure a business edge in today's dynamic and highly-competitive corporate world, it is crucial to stay abreast and integrate the latest in technology quickly into your existing IT landscape.
Cloud-computing is transforming the way business is done today.
Cloud-computing is a ground-breaking technological advancement that enables and gives authorised users the flexibility and the convenience to access and exchange crucial business data over the cloud from anywhere and any device.
Flexibility and Reliability
Public cloud services consist of an extensive network of servers, which means that it can benefit from increased reliability as it is highly unlikely for the entire public cloud to fail.
Let's say if one data center was to fail entirely, the network simply redistributes the load among the remaining centers.
Public Cloud not only makes it easy for businesses to access, connect, use and share data but it also helps start-ups and small businesses replace up front capital infrastructure expenses with a small variable cost with its flexibility.
Cost-effectiveness
Public Cloud offers an on-demand delivery of IT resources and applications with pay-as-you-go pricing. Choosing public cloud services help organisations make important business decisions in real time, tapping profit maximizing opportunities right when they occur, without any delay.
Businesses using public cloud no longer have to plan for procure servers as they can instantly spin-up hundreds of servers and deliver results fast. It offers low cost infrastructure and scalable platform over the cloud powering thousands of businesses, helping them grow and scale with time.
AWS – Amazon Web Services

Microsoft Azure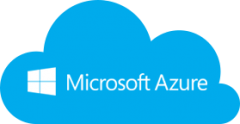 Alibaba Cloud
Google Cloud Platform
FAQs - Frequently Asked Questions
A traditional application is monolithic in design with application architecture which generally consists of database, web servers and application that are tightly coupled with the infrastructure with limited flexibility and relies on it for providing availability.
A cloud-native application, such as public cloud, is one that uses open, common standards that is dynamic in nature and highly scalable with no dependencies on the underlying infrastructure.
Data is spread across many different servers in one central location (with alternative backup locations). Generally, there are at least a couple of main datacentres which are protected against outside interference and are highly secured, both physical and virtual. Even if there was a catastrophic failure at multiple datacentres, your data would be able to be recovered from all the smaller servers around the world.
Cloud services are subscribed to on a monthly basis, and are rented instead of purchased. This means you shift your spending from capital expenditure to operational expenditure, meaning you can keep track of how much you are spending on IT without any unexpected costs such as upgrading your server.
Contact Us. Give us your feedback
We welcome and encourage feedback
Let Asia Cloud Solutions know what they're doing well, things to improve on or ask a question.
Your feedback will help Asia Cloud Solutions with the future development of the website and the services they offer.
Tell Asia Cloud Solutions about the content and services you would like to see and let us know if you couldn't find what you were looking for.