What is Microsoft Azure?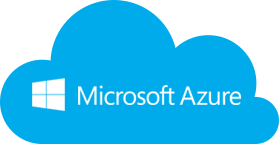 Formerly known as Windows Azure, Microsoft Azure is the Microsoft's public cloud computing platform. Leveraged on the constantly expanding worldwide network of Microsoft, Azure provides a range of cloud services, including those for compute, analytics, storage, and networking. Users are able to add on more cloud capabilities to their existing network through the platform as a service (PaaS) model, or entrust Microsoft with all of their computing needs with Infrastructure as a Service (IaaS). As the Microsoft's cloud-based application platform, Azure is ideal for developing, managing, and hosting applications off-site.
What is so special about Microsoft Azure?
Microsoft Azure offers both Platform as a Service (PaaS) and Infrastructure as a Service (IaaS). In general, below are the main product types available on Microsoft Azure.
Here's the list.
Compute –Virtual machines, containers, batch processing and remote application access are available under this category.
Web and mobile – App Service is a Platform as a Service (PaaS) offering of Microsoft Azure. Users are able to create web and mobile apps for any platform or device.
Data storage –Microsoft's global infrastructure offers safe, highly accessible, and cost-effective storage plan.
Analytics –Services provide include distributed analytics and storage, as well as real-time analytics, big data analytics, data lakes, machine learning and data warehousing.
Networking – Virtual networks, dedicated connections and gateways, as well as services for traffic management, load balancing and domain name system (DNS) hosting are the services under this group.
Media and content delivery network (CDN) – Azure provides services include on-demand streaming, encoding and media playback and indexing.
Hybrid integration –Server backup, site recovery are some of the services available under this group.
Identity and access management (IAM) – under this category, they offer services ensure only authorized users can employ Azure services, and help protect encryption keys and other confidential information.
Internet of Things (IoT) – Users are able to capture, monitor, and analyze IoT data from sensors and other devices with the support of this service.
Launched in October 2008, Microsoft has Azure data centres located across the globe. As of now, Azure services are available in 22 regions around the world, including in the United States, Europe, Asia, Australia, and Brazil. On a final note, enterprises are able to build, deploy, and manage applications promptly through Microsoft Azure and its partner hosted data centres due to its flexibility. As such, users get the freedom to build and deploy wherever they want, using the tools, applications, and frameworks of their choice.